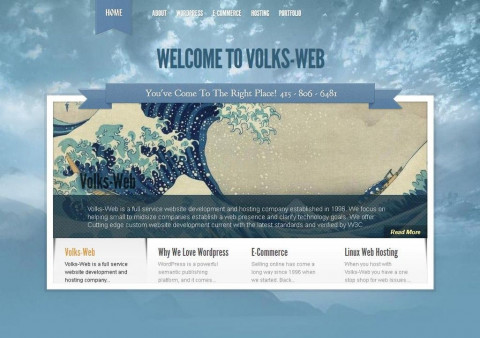 VOLKS-WEB is a full service web site development and hosting company in business since 1996. We focus on helping small to midsize companies establish a web presence and clarify technology goals. We are WORDPRESS EXPERTS.
We offer:
* Cutting edge custom web site development current with the latest standards and verified by W3C.
* Applications to suit your needs.
* Graphics Creation
* Technology Consulting
* Reliable and affordable website hosting.
* We provide detailed estimates free of charge, upon determination of your requirements.
Specialties
Blog Writing & Management
Brochure Design
Cascading Style Sheet (CSS) Design
Content Management Systems (CMS) Expertise
Database Integration
E-commerce Solutions
Email Provider
Flyers
Full-Service Website Management
Google Adwords Campaign Management
Identity & Brand Strategy
Javascript & DHTML
Merchant Account Integration
Monthly Maintenance
MySQL
Online Marketing Strategy and Implementation
PayPal Shopping Cart Integration
Photography Services
PHP Development
Search Engine Marketing (SEM)
Search Engine Optimization (SEO) Consulting
Slideshows
Small Business
Social Media Marketing Strategy & Implementation
Templates
User Interface (UX) Design
Video Production (Editing, Streaming) Services
Web 2.0 Development
Website Hosting Services
Wordpress Expertise
XHTML