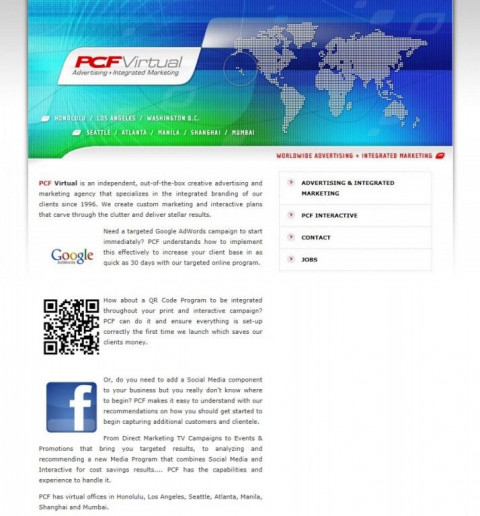 Since 1996 PCF Integrated Marketing & Technology has been growing strong to serve the needs of our clients in the State of Hawaii, on the U.S. Mainland and Internationally. Although we began as a full service Advertising Agency we have transformed into a full service integrated marketing and technology company. Our talented team provides specialized services that produce measured results and outcomes that inspire greater business aspirations.
PCF creates unique, engaging Web sites and applications to suit our clients' business objectives. PCF also provides complete support and administration of all Internet Technology required for effective web presence.
• PCF also manages complete Interactive Marketing & Technology programs including Search Engine Optimization, Google AdWords, Facebook Ads, Bing Ads and more for exceptional results that are tracked with detailed reporting. Visit out Web site at http://pcfvirtual.com or call us for more information.
Specialties
Bing
Blog Writing & Management
Brochure Design
Business and Postcard Card Design
Cascading Style Sheet (CSS) Design
Content Management Systems (CMS) Expertise
Database Integration
E-commerce Solutions
Email Provider
Flash Animation
Flyers
Full-Service Website Management
Google Adwords Campaign Management
Google Places
Graphic Design
Identity & Brand Strategy
Javascript & DHTML
Logo Design
Merchant Account Integration
Military.com Ads
Monthly Maintenance
MySQL
Online Marketing Strategy and Implementation
PayPal Shopping Cart Integration
Photography Services
PHP Development
Posters
Print Advertising
Print Design
Professional Illustration
Search Engine Marketing (SEM)
Search Engine Optimization (SEO) Consulting
Slideshows
Small Business
Social Media Marketing Strategy & Implementation
Templates
User Interface (UX) Design
Video Production (Editing, Streaming) Services
Web 2.0 Development
Website Hosting Services
Wordpress Expertise
YAHOO