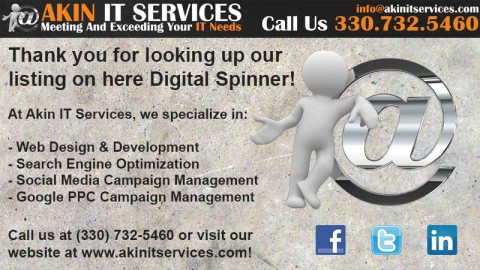 Akin IT Services is a one stop IT solutions center based in Twinsburg, Ohio which has been serving customers since January of 2006. We provide web design, Joomla and Wordpress development, webstore development and integration, database development and reporting, search engine optimization, social media implementation, advertising campaigns with Google Adwords and Facebook advertising, application development for most mediums, and virtually anything that can be done in the IT world. We also offer credit card processing solutions (Merchant Accounts), as well. Finally, we offer affordable, off-site first level computer and website maintenance services to assist our customers on an on-demand basis. We solve issues ranging from a mouse not working to the most complex database problems.
At Akin IT Services, we pride ourselves on providing corporate level web design at a small business price. We have customers of all sorts - from local automotive repair shops to internationally renowned rock bands, all the way to international importers and exporters of goods and services. We provide a personal touch, and our team of design experts works directly with every client to ensure that they get the website THEY need.
At Akin IT Services, our slogan is "Meeting And Exceeding Your IT Needs" - those aren't just words. It's what we strive to do...every time, with every customer. We hope to prove that to YOU! Call us today at ext. 1 or email our Sales Manager at !
Specialties
Blog Writing & Management
Brochure Design
Business and Postcard Card Design
Cascading Style Sheet (CSS) Design
Content Management Systems (CMS) Expertise
E-commerce Solutions
Email Provider
Flash Animation
Full-Service Website Management
Google Adwords Campaign Management
Graphic Design
Identity & Brand Strategy
Joomla CMS Expertise
Logo Design
Merchant Account Integration
Monthly Maintenance
MySQL
Online Marketing Strategy and Implementation
PayPal Shopping Cart Integration
Photography Services
PHP Development
Posters
Print Advertising
Print Design
Professional Illustration
Search Engine Marketing (SEM)
Search Engine Optimization (SEO) Consulting
Slideshows
Small Business
Social Media Marketing Strategy & Implementation
Templates
User Interface (UX) Design
Video Production (Editing, Streaming) Services
Web 2.0 Development
Website Hosting Services
Wordpress Expertise
XHTML