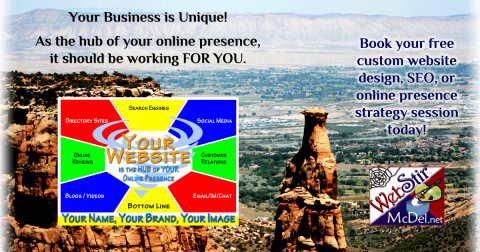 Want to be at the TOP of the page?
McDel Publishing specializes in "SEO-focused" responsive websites that project YOUR image and provide the features and functionality that YOU want. By listening to your needs and defining your objectives for your website, the WebStir™ team will custom-design and build your website to attract attention from potential customers AND the search engines. McDel's custom website designs are easy to use and create a positive UX (User Experience). If your website isn't working for you, request a Site Audit.
We also help you integrate your online presence with customized multimedia publishing, coordinated marketing efforts, and by maintaining consistency across multiple methods of delivery. By re-purposing existing and new content and graphics for multiple mediums, you will save time and money.
Websites, animations, graphics, social media pages, email campaigns, print materials, promotional products, and more can be custom-designed to promote your purpose, business, product, method, cause, group, school, organization, etc.
Contact us to schedule a free 1-hour Web Design consultation, Content Management Strategy Session, Content Marketing Strategy Session or Online Presence Strategy Session.
Specialties
Affordable
AJAX
Animation
Banners
Basic Web Design
Blog Writing & Management
Brand-focused Design
Brochure Design
Business and Postcard Card Design
Cascading Style Sheet (CSS) Design
Clean Design
Clean Designs
Content Management Systems (CMS) Expertise
Content Strategy
Content Writing
Copy Writing
Copywriting
Corporate Collateral
Custom Web Applications
Development
Domain Registration
E-commerce Solutions
Email Marketing
Email Provider
Facebook
Flyers
Full-Service Website Management
Graphic Design
HTML
HTML 5
HTML5
Identity & Brand Strategy
Interactive Media
Javascript & DHTML
JQuery
Landing Page Design
Local Search Marketing
Logo Design
Market Research
Merchant Account Integration
Mobile Web Design
Mobile Website Design
Monthly Maintenance
MySQL
Online Marketing Strategy and Implementation
PayPal Shopping Cart Integration
Photography Services
Photoshop
PHP Development
Posters
Press Release
Print Advertising
Print Design
Printing
Professional Illustration
QR Code Integration
Responsive Web Design
Search Engine Marketing (SEM)
Search Engine Optimization (SEO) Consulting
Shopping Carts
Slideshows
Small Business
Social Media Marketing Strategy & Implementation
User Interface (UX) Design
Video Production (Editing, Streaming) Services
Web Consulting
Web Content Maintenance
Web Redesign
Website Audit
Website Hosting Services
Website Maintenance
Website Redesign
Wordpress Expertise