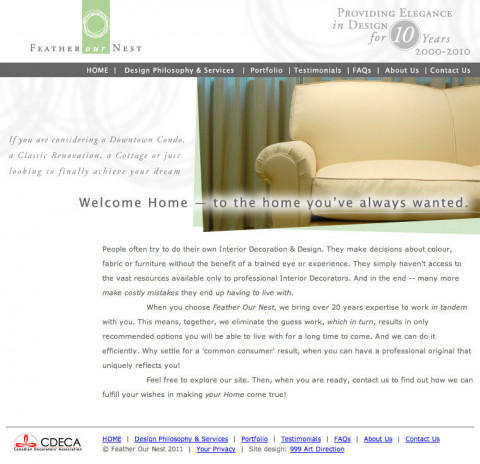 As established Toronto Website & Small Business Brand Designers for the last 10+ years, 999 Art Direction provides aspiring Small Office/Home Office (SoHo) businesses with inspired elegant Marketing Website Design that starts with a refined professional Brand Identity. All of our Marketing Design is custom -- uniquely created and built in Toronto -- and all designed to advance your business to that next growth level by allowing you to control the conversation and project a professional, yet engaging image.
The value we bring to your business through our custom Brand Development and Marketing Website Designs can be attributed to focused strategic design, clear communications and an elegant, confidant style, commensurate to your business objectives. For Small Office firms seeking Advertising Agency Creative or Marketing & Communication Design, we can help there too, using the same disciplines.
We primarily cater to established service-oriented professional businesses, mainly home-based (businesses-of-one), who are not able to, nor are interested in, creating their own website / branding / etc, and preferably located in: Toronto proper (not the extended GTA).
We invite you to explore our website at your convenience, examine our credentials and portfolio, then, when you are ready, feel free to contact us to arrange a meeting to discuss the various ways we can advance your business website and brand identity by making it look desirable and credible to your prospects.
Note: Text messages will NOT be answered (due to scams). PLEASE see our TERMS page before inquiring.
Specialties
Brochure Design
Business and Postcard Card Design
Full-Service Website Management
Identity & Brand Strategy
Logo Design
Online Marketing Strategy and Implementation
Print Advertising
Print Design
Small Business